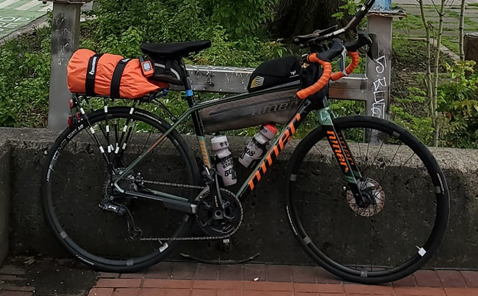 The Hoodoo 500 offers two unique divisions for the most experienced ultra-distance cyclists which allows them to race without a support crew: Voyager (Saturday start) and Voyager 72 (Friday start).
The Voyager and Voyager 72 Divisions are open to everyone and no request for entry is required. Voyager and Voyager 72 must, however, sign and return at racer check-in a detailed information and waiver letter identifying specific rules and requirements for participating in this division including an acknowledgment that if he/she abandons, he/she is solely responsible for transportation back to St. George and lodging somewhere on the route if transportation is not immediately available (it likely won't be).
While there are no specific or required qualification standards, potential riders should understand that this is a very challenging route with the potential for extreme weather changes and long stretches with no services. We highly recommend that the first time you race Hoodoo, you do so with crew.
The Hoodoo 500 is a super tough race through very remote areas. You absolutely must be willing to put a rack and bag on your bike, as well as carry a camelbak. You absolutely must be willing to carry everything you could possibly need to make it through a long, dark and cold night (and perhaps the better part of the second or third night) in areas where there are no services. Between the hours of 10pm and 8am, finding an open store to buy food will be pretty much impossible. You may, however, be able to find water at the many campgrounds along the course, or from a local garden house in someone's yard. You absolutely must be willing to study the route and do as much research as required to plan your refueling stops, rest stops if needed, and water sources. Before signing up, do your homework!
There is NO SAG for Voyager or Voyager 72 racers.
For a newbie Hoodoo racer attempting the Voyager or Voyager 72 division, at the very minimum your cycling experience should include multiple day bike-packing adventures, and/or completion of a 400k brevet, 24 hour event or a supported 500-mile race within the past two years.
Click here for Voyager-specific event rules. Please take this division very seriously. This division is intended for riders with significant experience in distance, self-supported riding / bike-packing, and who are willing and able to take the time and effort to plan for the challenge.
Voyager Categories:
Voyager (solo, no support crew – Saturday start)
• Limited to 50 riders.
• Voyager Men (Open, 50+ and 60+)
• Voyager Women (Open, 50+ and 60+)
Voyager 72 (solo, no support crew – Friday start)
• Limited to 50 riders.
• Voyager 72 Men (Open, 50+ and 60+)
• Voyager 72 Women (Open, 50+ and 60+)

Voyagers Conjoined (for either category): – "Joined at the hip" for the duration of the race **
• Limited to 5 "teams," (which count towards the limit of 25 total Voyagers) each member individually qualified, selected by the Race Directors
• Male Voyager Team (Open, 50+ and 60+)
• Female Voyager Team (Open, 50+ and 60+)
• Mixed Voyager Team (Open, 50+ and 60+)
**Conjoined Voyagers must ride together (drafting or side-by-side when traffic permits) at all times except on descents greater than 3-4%. At the bottom of descents, they must re-group. Both must finish or both must quit.